Audience profile Amsterdam Business Forum
Meet your fellow attendees
When signing up for an event, you want to know:
Who else will be there?
Will I meet interesting people?
Of the right level and caliber?
Because the quality of the audience also determines the quality of the seminar.
Over 1100 leaders and entrepreneurs have already registered for Amsterdam Business Forum 2023
These organizations are sending one or often multiple leaders to Amsterdam Business Forum 2023:
20 Corporates
(selection of 20 companies, in alphabetical order)
ABN AMRO
Achmea
AS Watson
Dura Vermeer
Ernst & Young
FrieslandCampina
ING
KLM
KPMG
KPN
Nationale Nederlanden
PriceWaterhouseCoopers
Rabobank
Randstad Groep
Renewi
Salesforce
Samsung
Stork
T-Mobile
Vodafone Ziggo


20 SME's & Scale-ups
(selection of 20 companies, in alphabetical order)
Agium
ARAG
Bamboo Brands
Bergman Clinics
De Vries Scheepsbouw
FranklinCovey
Girav
Goodhabitz
Ilionix
InnSpire
Keukenconcurrent
Klaas Puul
NNEK
Ormit
Prijsvergelijken.nl
Silverside
Swapfiets
TOPdesk
TVM
VMWare
World Forum The Hague
20 Government, Education, Healthcare
(selection of 20 organizations, in alphabetical order)
Clematis Gezondheidscentra
DUO
Erasmus MC
Gemeente Alkmaar
Gemeente Eindhoven
Gemeente Zaanstad
Havenbedrijf Rotterdam
Hogeschool van Arnhem en Nijmegen
Hogeschool Utrecht
Hogeschool Windesheim
Kamer van Koophandel
Provincie Gelderland
RVO
Ministerie van Binnenlandse Zaken
Montessorilyceum Rotterdam
Sint Antionius Ziekenhuis
Universiteit Twente
Veiligheidsregio Rotterdam
Waterschap Brabantse Delta
Zuyderland MC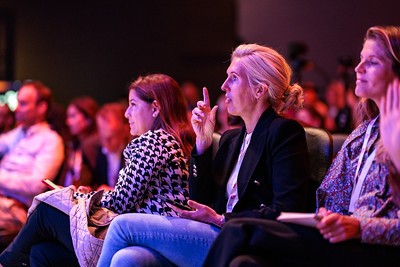 Top 10 participant job roles
These are the 10 most common job roles of participants:
Board member
CEO / Managing Director
Founder
HR Director/Manager
Commercial Director/Manager
Financial Director/Manager
Manager
Operations Director/Manager
Manager of Leadership Development
Marketing Director/Manager
If you want to meet these people AND hear world class speakers ... register for Amsterdam Business Forum 2023!