Amy Edmondson on Psychological Safety

Thursday 30 May 2024
The key to excellent and inclusive teams
If you want to build an excellent team, you need full engagement of ALL team members. All voices need to be heard. All ideas need to be shared. Only then … does a team reach its full potential.
How do you create a team culture:
in which it is safe -and even expected- to speak up
that is truly open and inclusive
that responds productively to risks, mistakes and failures
that demonstrates radical candor, even when sensitive issues are raised
Amy Edmondson is coming to Holland
For this exclusive seminar, Harvard Professor Amy Edmondson will come to Holland. On May 30th, she will share her best ideas on Psychological Safety with you. She will show you what organizations and leaders can do to create the perfect setting for teamwork.
The result: more innovation, more employee engagement, higher performance.
Psychological safety can be the silver bullet for your team too. If you know how to make it work.

Amy Edmondson
Program
17.00
Closing and reception
Block 1: How do we do things here?
Creating an excellent team requires a fundamental level of psychologically safety. People need to feel heard, appreciated, and safe to speak up. The first step to make that happen = framing the work.
Making clear what it means to work in your company:
What is expected of you when you join this team?
What can you expect back from the organization?
What role does leadership play here?
In this section, Amy Edmondson will give you insights, examples and practical advice on how to create the right foundation for excellent teamwork.
Block 2: Triggering and inviting for engagement
As a leader, you really want to invite and trigger engagement. In this section, Amy Edmondson will share concrete ideas to:
invite more and deeper engagement in team meetings
make sure all voices are heard (also those of more introvert people)
monitor team processes when meetings get emotional or agitated.
Block 3: Right Kind of Wrong
Leadership and teamwork are put to the test when … things go wrong. When mistakes are made. When we fail to reach goals. In this section, Amy Edmondson will share:
3 types of mistakes and failures
Tailor made ways to deal to each kind of mistake
including productive (and non-productive) responses
Block 4: Teamwork in practice (talkshow)
A moment to share your questions and cases with Amy Edmondson. About:
Your role as a leader in creating Psychological Safety
Ways to respond to dysfunctional team processes
Developing your own skills to beat unproductive reflexes
Leading upward: encouraging top management or Boards to embrace Psychological Safety
Teams and targets: how psychological safety works in a very competitive company culture
Practical information
Exclusive one day seminar with Harvard Professor Amy Edmondson, plus special guests
17.00
Closing and reception
Location
AFAS Theater Leusden
Inspiratielaan 3
3833 AV Leusden
Route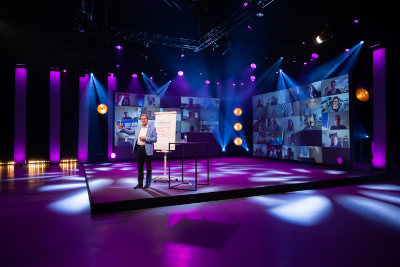 Streaming Pass
Amy Edmondson on Psychological Safety for all your colleagues? It's possible!
More info